Air-Ride Equipped Vac Trucks Fit into Low Clearance Parking Garages
Metro Jet Vac Service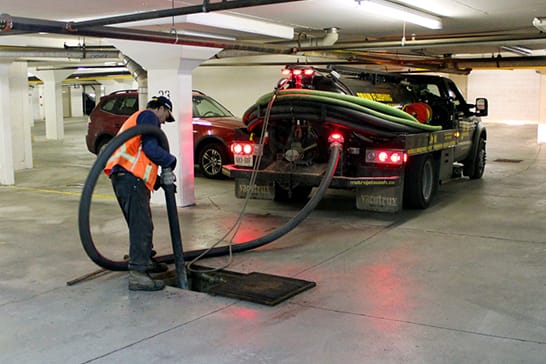 Drain Cleaning – Our vac trucks are specifically designed to fit into low clearance parking garages.
Metro Jet Vac (Vacuum) Service, a division of Metro Jet Wash Corporation, came into being to help solve the growing issues of dirt buildup and flooding (due to blocked drains and clogged catch basins) commonly seen in multi-level underground parking lots. With that Metro Jet Vac began offering drain services, which include drain cleaning and flushing, catch basin cleaning, sump pit cleaning, as well as camera inspections.
We are equipped with vac trucks, drain cameras, mechanical snakes, jetters and a mini vac. We service driveways and yard drains, sump pits, above and underground parking lots and all residential, high-rise, municipal, commercial or industrial properties and warehouses. Our vacuum trucks are custom built locally and are air-ride equipped so we can fit into most parking garages. If our truck does not fit, we have a mini-vac trailer that can be towed behind a small vehicle to fit into those very low clearance underground garages.
Our prompt, experienced and highly trained technicians using state-of-the-art equipment paired with competitive pricing have allowed us to become an industry leader in drain cleaning, catch basin cleaning, sump pit cleaning, and inspecting.
Please contact us today at 416-741-3999, toll free at 1-844-669-3999, or email us at mjw@metrojetwash.ca for your free consultation or quotation. We are your first choice for property management solutions!
Drain Cleaning & Flushing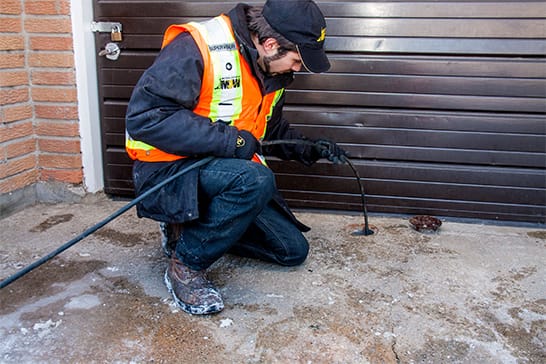 Drain Flushing – An employee jet flushing an area drain with a high pressure, pulsating jetter snake.
Whether it be a drain blockage or a routine flush, our company has the necessary drain cleaning and flushing equipment to get the job done right.
For regular or preventative maintenance jobs, we flush drains thoroughly, using our high pressure pulsating water jetter snakes. For drains with major blockages, we have heavy-duty mechanical drain cleaning machinery.
Drain Camera Inspection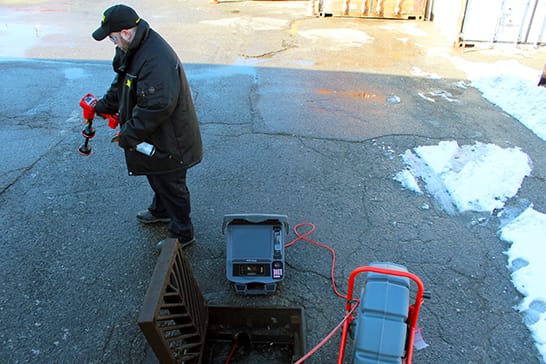 Drain Camera Inspection – Precise locating equipment will find your broken pipe or clog.
Metro Jet Vac offers camera inspections as well as diagnosis and location of drain issues. If you have persistent issues in a drain, a camera inspection is usually the next step prior to repairing the problem. We have high quality cameras and precise locating equipment. After a camera inspection, you are left with a digital file and the location of the broken pipe or clog marked, as well as the depth noted.
Once the drain inspection is completed you can have us arrange the repair or seek your own repair technician with no obligations. Don't hesitate to contact us for further guidance. We will be happy to discuss your options.
Catch Basin Cleaning & Sump Pit Cleaning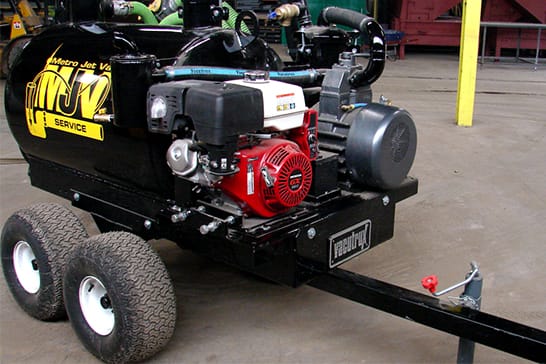 Catch Basin Cleaning – In the lowest clearance underground garage, our mini-vac trailers get the job done.
Using our vacuum trucks, we will vacuum catch basins and sump pits completely. If necessary, we also clean and flush the drains. It is critical to do this routinely, as it will help prevent any unwanted flooding and water pooling. Catch basin sludge can build up fairly quickly, especially in the fall and winter seasons. For sump pits, many require pump re-priming after they are cleaned so this is included with our service. And before they are closed, we will always inspect the sump pits to ensure that they are in good working order.
Emergency Response & Oil Spills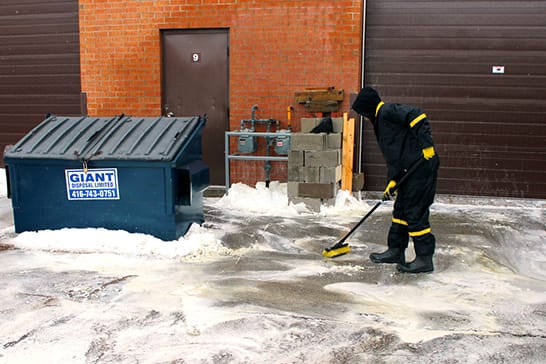 Emergency Response Oil Spills – Containing an oil spill using 100% natural and environmentally safe products.
The most important factor and our top priority for all emergency calls we receive is our immediate response. It is essential to protect the environment from further contamination. Once we arrive at the site, an assessment of the problem is done.
For oil spills, we use a 100% natural and environmentally safe product to absorb the oil, power wash the ground and then vacuum all wastewater so it does not go into the storm drain system. We dispose of the contaminants at a proper waste handling facility.
For floods, we will investigate to determine the reason for the flooding, locate it, use the appropriate equipment and tools to clear the water, and then fix the problem. Afterwards, we shall provide a full report of our findings, plan of action and solution.