We Make Sure That Your Underground Is Clean & Free of Contaminants
Mobile Sweeping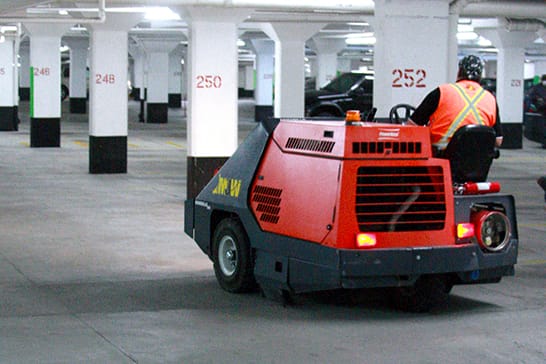 Mobile Sweeping – A mobile sweeper picking up all loose dirt before pressure washing.
Our machines are used in underground garages, parkades, parking lots, driveways and warehouses as well as other applications. These industrial-strength mobile sweepers are powerful but sized like a small car which is ideal to reach most surface areas. Our machines pick up and collect carbon dust, garbage, rocks, leaves, dirt, etc. Essentially, whatever can be swept up manually, our machines will do it up to ten (10x) times better.
We also supply an oversized lining bag, an industry first, to secure all dirt that we expel from the sweepers that go into a garbage bin. If needed, we can also dispose of the bin liner at our location for a minimal charge.
Please contact us today at 416-741-3999, toll free at 1-844-669-3999, or email us at [email protected] for your free consultation or quotation. We are your first choice for property maintenance solutions!
Underground & Parking Lot Pressure Washing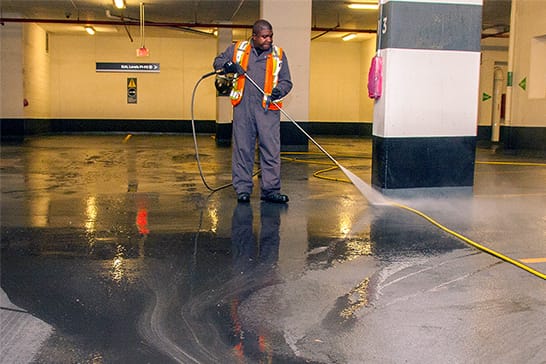 Parking Lot Pressure Washing – Our fully trained and experienced employees make sure that your underground is clean and free of contaminants.
Following arrival on site, we sweep your entire
parking lot with one of our mobile sweepers to keep as much dirt out of your drains as possible. Inaccessible areas for the mobile sweeper are swept by hand. After the sweep, we treat all oil spots with an environmentally friendly degreaser and follow with a scrub of the oil spot with an aggressive brush. Next, we wash your floor with our custom-built 3500psi pressure washer.
The three main objectives for our parking lot pressure washing service is to remove; (1) all excess salt, (2) compacted dirt buildup and (3) oil stains (depending on the age of stains). If left to linger, these contaminants, as well as other fluids coming from some vehicles, will increase the deterioration of your flooring surfaces.
Mobile Scrubbing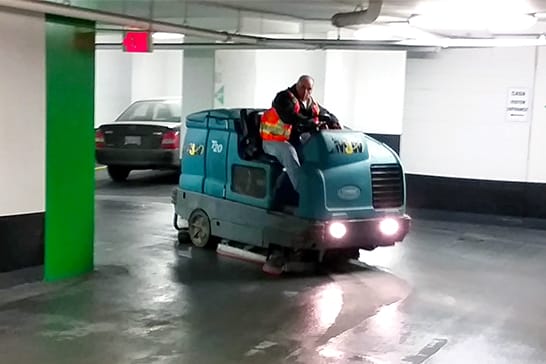 Mobile Scrubbing – Top quality machines used to remove fine dirt and stains following a mobile sweeping.
We carry a line of top-quality power scrubbers for use in parkades, parking lots, factories and warehouses. These machines are designed to follow up after a thorough mobile sweeping has taken place. Sweepers take care of the bulk dirt and debris while power scrubbers focus on the fine dirt and stains remaining on the surface.
Please note that not all floor types qualify for this service. Contact us for further details.
Pipe Dusting & Wall Washing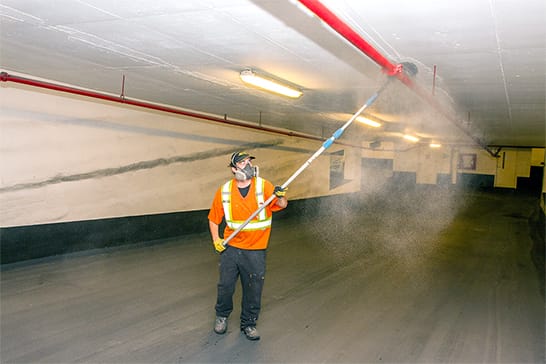 Pipe Dusting – Our specially designed brushes are perfect for your pipe dusting needs.
We are equipped with the proper tools to dust your underground pipes. Even in those hard to reach places, our experienced staff have the tools to get the job done. At Metro Jet Wash, we have telescopic wands with custom-designed brushes made specifically for pipe dusting. We can even power wash your underground walls and pillars upon request.